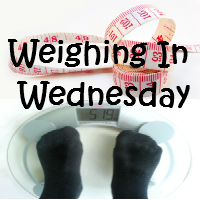 This week hasn't exactly went the way that I had hoped. I flew into Washington State to visit my brother and it seems every healthy habit I thought I had formed has been tossed aside.
On a positive note, I did weigh myself and since Labor Day weekend, I am exactly the same weight. This may be negative for some people, but I could have gained a lot of weight and did not. Standing still is better than gaining.

My goal for this week is:
Walk! Walk as much as I possibly can!
If you would like to link up for Weighing in Wednesday:
Link up your post about weight loss goals, dreams, successes, tips, or anything else weight loss related.
The linky will open Wednesday morning by 8am EST and will remain open for 72 hours.
If you want to grab the button, that would be great, and if you don't, I'll still stop by to read your post.