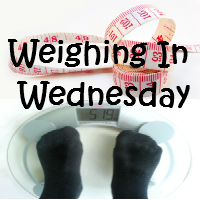 I did it! I went a whole day without any soda pop intake. That is a huge deal for me. I am going to try to go at least a day a week without any because I know it will help me in my weight loss journey.
My lunch time walks have been great. I get winded easy, but I figure one of these days it will pay off and I'll be able to go a bit further. Colder weather is moving in and I need to convince myself to continue exercising even when the weather isn't ideal.
Thank you to the people who have been encouraging me and to the people that link up. It is great to read about your journeys!
My goal for this week is:
I do so much better when I am tracking the food that I am eating and the drinks that I love. Water is something I drink on a daily basis, so at least I have started some healthy habits in the last 7 weeks.
One of these weeks I am going to weigh myself and start posting my weight loss (hopefully no weight gains).
If you would like to link up for Weighing in Wednesday:
Link up your post about weight loss goals, dreams, successes, tips, or anything else weight loss related.
The linky will open Wednesday morning by 8am EST and will remain open for 72 hours.
If you want to grab the button, that would be great, and if you don't, I'll still stop by to read your post.