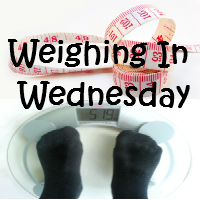 I am so proud of me for getting out nearly every day during the week for a walk. Today, I walked for nearly a mile. It is the longest I have walked since my knee surgery and it felt wonderful! I hope to get out for a walk every day that is it still nice out.
Watching my food intake has taken a nose dive. It seems the busier I get at work, the worse I feed myself. Eating out is a killer, but I continue to do it for myself. I do not like warmed up food that much, but I am not too knowledgeable about picking out healthy "to go" foods. I sure could use some help with that one!
You would all be impressed with my water intake lately. I have not missed a day this week with my water intake. I, however, did not go a whole day without drinking pop. What is it about pop that is so hard for me to give up?
My goal for this week is:
Go one day without any soda pop
It would be a huge step for me to go one day without any soda consumption whatsoever. If I can go one day, then maybe I can move it up to more soda pop free days. People say that it was a big step in their weight loss progression, but I am having a really hard time giving it up this time around. Maybe I crave sugar more than ever? Who knows?!

Please link up so we can build a support system! Research has shown that people that have a support system lose and keep off more weight than those that do not support.
If you would like to link up for Weighing in Wednesday:
Link up your post about weight loss goals, dreams, successes, tips, or anything else weight loss related.
The linky will open Wednesday morning by 8am EST and will remain open for 72 hours.
If you want to grab the button, that would be great, and if you don't, I'll still stop by to read your post.