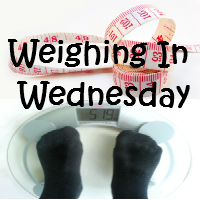 This has been a difficult week for me. I have not eaten at home too much and have enjoyed my food more than any person should. I wish that I didn't eat as much as I do. I eat when bored, relaxing, sad, happy, etc. You get the point... I love my food!
I did really good counting my calories until I had a bad day. I knew the calorie intake would be high, so I did not input my numbers. It was the cowards way out, I need to be responsible and answer for what I do. I'll try to do better this week and count all my calories and maybe learn from my bad days. The good news is that I had more good days than bad days this past week!
Water is not as nasty to me as it was four weeks ago. Yesterday I managed to drink 24 ounces and it did not take me all day. I still have not went a day without Dr Pepper, Coke, and/or Mtn Dew, but at least I am getting some water into the mix. Why is giving up soft drinks so difficult for me? Maybe, just maybe, I'm addicted to sugar?!
Unfortunately, my one goal of exercising 15 minutes a day fell short. I did exercise more this past week than I have in awhile, but still nothing compared to my workouts pre-knee injury. I hope to do better this week!
My goal for this week is:
Exercise at least 3 times a Week
I want to have three good days of walking and/or fitness of some kind. Three days will be a start for me and I can definitely build off of three days. Did you ever have to start over from scratch? What was some of the easiest exercise for you to do?

Please link up so we can build a support system! Research has shown that people that have a support system lose and keep off more weight than those that do not support.
If you would like to link up for Weighing in Wednesday:
Link up your post about weight loss goals, dreams, successes, tips, or anything else weight loss related.
The linky will open Wednesday morning by 8am EST and will remain open for 72 hours.
If you want to grab the button, that would be great, and if you don't, I'll still stop by to read your post.