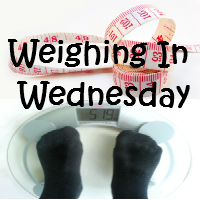 My goals were more difficult this past week to attain than I thought they were. I hardly drank any water and counting calories was non-existent. I have no idea why I sabotage myself the way that I do. This was one of the busier weeks that I have had since moving here, but habits need to be formed at some point.
Because of the epic fail of the first week of dieting, I am only going to set one goal, that should make a difference in the long run. That goal is:
Drink at least 16 ounces of water per day
This may seem like a goal that is likely to be accomplished, but water is not something I enjoy at all. The taste is less than desirable and the sugar content is non-existent. If there is a sugar addiction, I may have it when it comes to my drinks.
Do any of you have any brands that you can recommend to flavor the water? What is the hardest part of losing the weight for you? It seems that starting is the most difficult part for me.
I hope my update next week is that I accomplished the one goal I set then I can keep the same goal and set other ones!
If you would like to join up for Weighing in Wednesday, the rules are quite simple.
Write a post about your weight loss goals, dreams, successes, or whatever you would like to write about as long as it pertains to weight loss.
Link up with your post url
Cheer other WIW participants on and together, we may be more successful!
The linky will open Wednesday morning by 8am EST and will remain open for 72 hours.
If you would like to link back, it would be great, but not necessary. The button is below if you want to add it to your post.