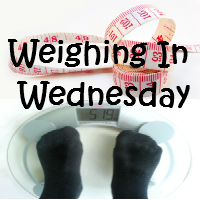 Today is the day that I have decided I will start my weight loss journey and I wanted you to come along with me! I have about 90 pounds to lose to get to a "normal" BMI, but I would be happy losing 70. My first goal is to lose 10% of my weight.
I figure goals are easier to attain if you set them week by week, so that is what I am going to do. My week one goals are:
Limit Soda Intake: I currently drink more than 24 oz of pop a day, my favorites being Dr Pepper and Mtn Dew. My goal is to limit my intake to 20 oz a day or less.


Count Calories: This is quite difficult for me as I like to eat without thinking about what I am doing to my body. I want to limit my calories to around 1500 a day and to count every last tasty calorie.
I am going to keep it at two goals this week to keep myself motivated and not beat myself up for not doing what I said I am going to do.
If you would like to join up for Weighing in Wednesday, the rules are quite simple.
Write a post about your weight loss goals, dreams, successes, or whatever you would like to write about as long as it pertains to weight loss.
Link up with your post url
Cheer other WIW participants on and together, we may be more successful!
The linky will open Wednesday morning by 8am EST and will remain open for 24 hours.
If you would like to link back, it would be great, but not necessary. The button is below if you want to add it to your post.

Our Military Home is doing her own Weigh In Wednesday if you would like to support her as well!