My very first guest post is ready for people to read at
Bewildered Bug
! Serena is the first blogging buddy I made online. We tweet back and forth, Direct Message every once in awhile, and learn a little bit about each other as the weeks go on. When she asked if I wanted to guest post I was elated, but knew the post would hit a sensitive spot! Her blog is one that I stalk several times a week and I hope that you take some time to go and visit her too.
Now it's time for: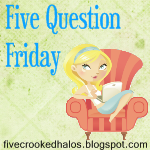 Dream Job... realistic and completely unrealistic? That's a good questions right now. Do we count wanting to be a mom a job? Hmmm... well, my dream job would involve making laws to send perpetrators of domestic violence, sexual assault, and child abuse to jail for a lot longer. I realize that our prison systems are overloaded right now, but something has got to be done to protect people a little better. My completely unrealistic dream job is to be Santa Claus. It is unrealistic because I cannot wear red that long, I think I would crash with the reindeer, and I would have bad weight issues with all the cookies. Did someone think I was going to give another reason why it would be totally unrealistic?


Do you fart in front of your significant other? I really try not to pass gas in front of anyone! Holding it usually is an easy task, unless I'm having one of those IBS or Sour Stomach issues. Then there are no bets as to what is going to happen! Heck... sometimes I don't think it is wise to trust a fart...


What's the furthest you've ever traveled from home? How far and where was it? I would have to get out an atlas to figure this one out, but it was in the States. I lived one and a half hours away from Buffalo, NY for most of my life and took many roadtrips. I went to Southern California and visited San Diego in my early 30s and stayed in Borrego Springs, CA for a few days. If that was not the furthest then the trip to Port Angeles, Washington would have been the furthest away from home. I just stayed there for a few days with a friend and my sisters. I would love to go to Alaska and Hawaii someday, then I would definitely be pretty far away! Maybe Greece?!


How did you celebrate birthdays as a kid? I always celebrated with my twin sister, family, and some friends. My last friend birthday party was when I was 10 or 11 because Mom felt I was too old for friends to come over. I still think sharing birthdays with friends is a great idea. We would play some games, eat some cake, and visit for awhile with my friends. With family, to this day, we will either go out and eat all together or eat at the house. I prefer cake and my sister prefers pie, so we would have both; it really is the best of both worlds!


Fave thing about Fall? When I lived in New York, I really loved the way that the hills looked with the vibrant colors. Besides the colors, I do not like too much because it starts getting cold. We will see what I appreciate about Fall here...