Happy Friday everyone! I hope you all have a safe and enjoyable weekend!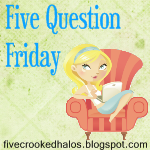 If you had a weekly newspaper column, what would you name it? I'd probably name my column the Random Musings because it wouldn't just be on one topic. I think it would be entertaining to do a Q and A with different people to get their thoughts on life, love, and random issues and events.


Who is your mentor/inspiration? I really look up to the women in my family who have done wonderful job raising their families. My mother is an inspiration (you can read my Mom blog post) because she somehow survived my siblings and I... and she is such a kind woman to other people too. My sisters are amazing mothers and wives. It is so great to have so many wonderful mothers to learn from!


What is your wake up beverage of choice? I don't drink coffee or tea... the first thing I usually drink is Dr Pepper, Mtn Dew, or Coke. I need to get better about drinking water then that would be the first beverage of choice. I only drink milk if I have cereal and I don't have cereal very often! Why is drinking water so difficult for me?


Would you wear your mother's clothes? My mom actually has better taste in clothes than I do. If I could fit into her clothes, I would most definitely wear most of it! There are a few things that I wouldn't be caught in, but they look fantastic on her. They just are not my style.


When you were a kid, did you put posters on your wall? If so, what were they of? I don't think I put any posters on my wall until college. I really wasn't a fan of too much growing up, except Little Debbie treats, and they didn't have a poster. When I got to college (I was still a kid, right?) I had a poster of three basketball stars as babies. It was just too darn cute to pass up.