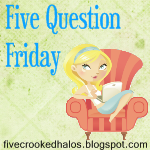 I linked up with the Five Question Friday Meme for the first time. I would encourage you to join by clicking on the above button!
Shoes in the house- yay or nay? I used to wear my shoes non-stop when I was younger, but then I moved to Canada and it was in their culture to take your shoes off upon entering a home. I felt more comfortable walking around sans shoes. Now, when I enter my friends and families homes, my shoes come off within minutes. It seems most people prefer carpets lasting longer and the comfort of no shoes!
What do you call them- flip flops, slippers, thongs, etc? I call them flip-flops and I love them. I have heard some people call them thong slippers, but have not heard any other variations of the concept. When I think of thongs, I think of uncomfortable underwear.
What song are you most embarrassed to admit you know the lyrics to? My embarrassment comes from not knowing any lyrics except children and church songs. I listen to the radio, but unless i hear a song over 200 times, I may never learn the lyric. Music is not the best way for me to learn!
What is the best quality to have in a friend? The best quality to have in a friend is one that won't give up on you if you happen to make a jerky mistake. I think we have all done something we really regret once and our friend is still there.
Do you know what you want for Christmas? I have no idea what I want for Christmas. I am not so much into receiving as I am into giving. I would like money this year to be able to buy something for each of my nieces and nephews. It has been since 2007 when I had that opportunity!